Though maybe not the most well known wildlife travel destination, Asia offers plenty of opportunities for animal lovers to spot wildlife in their natural habitats.
In Asia, you can explore jungles and rainforests on foot in search of primates and reptiles, while national parks make it possible to see big cats and Asian elephants in the wild from the comfort of jeeps and canters. The warm waters around Asia also give wonderful opportunities to spot whales and marine life on water safaris.
Asia wildlife holidays are as varied as the landscapes and habitats available on the continent, making it one of the most beautiful places in the world to spot animals.
Explore the guides below to find out more about the wildlife tourism available in Asia.
Asian Wildlife Destinations
India
Home to the world's largest surviving population of tigers, India should feature on any wildlife lover's bucket list. But that's not the only reason why: this majestic animal shares its habitat with countless other species, including bears, elephants, leopards and monkeys. India's vast national parks are spectacular, ranging from dense forests and jungles to mountains.
Learn More About India
Sri Lanka
What Sri Lanka lacks in size, it certainly makes up for in beauty, warmth and, of course, places to see wildlife. The jungles and national parks of the teardrop island are a beautiful setting in which to spot elephants, monkeys and exotic bird life. If you're really lucky, you may even come across a Sri Lankan leopard that, while being common, remains very elusive.
Thailand
Thailand is a wildlife lover's paradise. The jungles and rainforests of the north are home to dwindling numbers of wild elephants, while gibbons, geckos and various species of snake also call Thailand home. The waters around Thailand are studded with manta rays and whale sharks, meaning you're never far from the wild when relaxing on a Thai island.
China
China's vast size makes it large enough to cover a wide range of habitats, suitable for pandas to feast on bamboo in the forests of the southern and eastern provinces, as well as the dry, rocky mountain ranges that are cold enough to house snow leopards. China is also home to a large variety of other big cats, primates, ungulates and deer. You just need to know where to look!
Singapore
As a tiny city state, you would be forgiven for believing there wouldn't be much to see in terms of wildlife in Singapore. But, outside of the main urban sprawl, in the island's nature reserves you'll find a surprisingly diverse array of wildlife. Mammals including macaques and langurs roam the tree tops while snakes and lizards hunt for food along forest floors.
Nepal
The National Parks and wildlife reserves of Nepal are just as spectacular as its mountains. In this part of Asia, you'll find a huge variety of animal species including tigers, snow leopards, clouded leopards, foxes, elephants, rhinos, red pandas and pangolins. And that's just the start! The diversity of flora, fauna and habitat in Nepal makes it one of the best places to see wildlife in Asia.
Borneo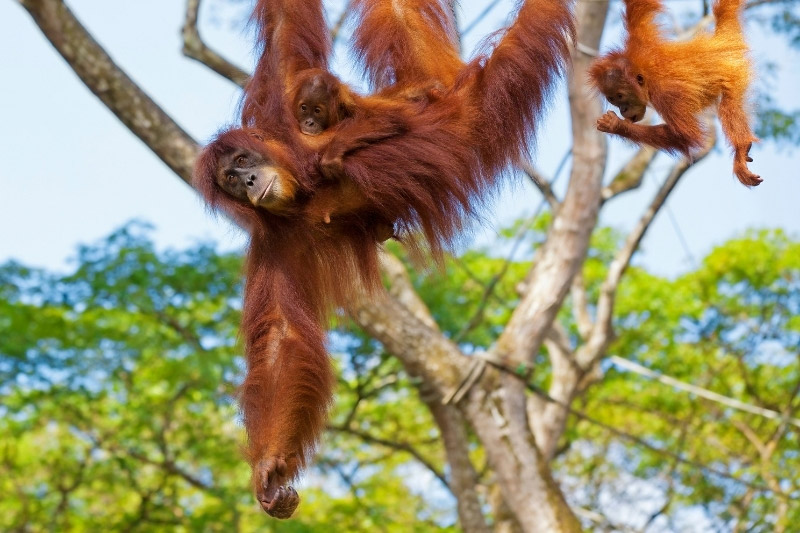 The southeast Asian island of Borneo is famous for its population of orangutans that swing through the tree canopies like something straight out of The Jungle Book. The tropical climate and habitat make an ideal home for a wide variety of wildlife, such as amphibians, reptiles, birds and primates as well as larger mammals including rhinos and elephants.
Malaysia
With most of the country covered in some of the world's best rainforests, mainland Malaysia is a great place to see animals in the wild. The incredible list of predators calling Malaysia home include two species of tiger, two species of leopard as well as the sunbear. River safaris of the wetlands and mangroves of Taman Negara National Park are a unique way to spot impressive birdlife.
Japan
Japan's bustling cities may make it an unlikely wildlife destination in Asia, but it is a deserving one. The best animal encounters here happen in winter, with opportunities to spot Japanese macaques warming themselves in hot springs, and Japanese cranes dancing in the snow. The rest of the year, the wetlands of Yatsu-Higata are a fantastic place to see migratory birds.
Asian animals are as diverse as the habitats they live in.
The big cats that call Asia home are plentiful enough to rival Africa, with the addition of tigers, snow leopards and clouded leopards thrown in for good measure. But that's not all – a huge variety of unique mammals, birds, reptiles and marine life live in Asia, making wildlife holidays more worthwhile than you may have previously thought.
Tiger
The villain of the Jungle Book but the hero of a safari in Asia is the majestic tiger. Nothing can quite prepare you for your first sighting of their bright orange and black stripes peeking out through the undergrowth. Though their numbers are growing, you still need to be lucky to spot a tiger in the wild.
Giant Panda
The poster child for wildlife conservation, giant pandas are growing increasingly rare to see in the wild. But that's what makes sightings of these adorable black and white creatures even more special. They live in the mountain ranges of China, and their diet mostly consists of bamboo shoots – up to 14kg of bamboo per day!
Snow Leopard
Though snow leopards are shy and reclusive, Asia is the only place you might spot them in their natural habitat. These big cats are covered in thick grey fur with black spots provide camouflage and also protect them from the harsh climates they live in across Asia's highest mountain ranges.